(This review was originally published on August 26, 2011 at The Rogers Revue)
For a film as dependent on visual texture as "Don't be Afraid of the Dark", it makes sense that Guillermo del Toro would choose graphic novelist Troy Nixey to direct his updated vision of the 1973 made-for-television horror classic. Stepping behind the camera for his first feature, Nixey makes an admirable attempt at revitalizing a style of horror that has all but disappeared in contemporary cinema, emphasizing suspense and imagery rather than gratuitous bloodletting, but whose effort is completely subverted by a script that lacks vitality.
Del Toro collaborates again with writer Matthew Robbins (who co-wrote "Mimic") to re-work the original teleplay by Nigel McKeand. Recreating some of the great atmospheric haunted house films of the sixties and seventies with an aesthetic hint of del Toro's own masterpiece "Pan's Labyrinth", Nixey's film gets off on the right foot, moody and menacing with an opening scene that evokes just enough dread to sustain interest for the first twenty minutes or so.
The story revolves around Sally (Bailee Madison), a little girl who's been sent to live with her father Alex (Guy Pearce) and his girlfriend Kim (Katie Holmes). Relocating them to a historic Rhode Island estate where he plans to renovate the house and make the cover of Architectural Digest, Alex has difficulty reconnecting with his wistful daughter. Unaware that her mother has voluntarily relinquished custody, Sally is desperately homesick and resistant to Kim, becoming increasingly reclusive. Amidst the family's struggle to adapt to one another, they discover a sealed doorway which subsequently reveals a massive stone cellar, a place that the groundskeeper (Jack Thompson) warns them to avoid. In the middle of the night Sally hears voices that she keeps secret, cryptic whispers emanating from the vents in the wall, suggesting that they want to be her friend. The next day she sneaks back into the basement, following the ominous voices to a sealed fireplace where they beckon her to let them out. Unhinging the iron grate, Sally unwittingly opens a portal to a netherworld that is host to a band of demonic nocturnal faeries who eventually begin to terrorize her in her bedroom at night.
Unfortunately, the development of this story hits creative quicksand less than halfway through its 100 plus minute running time as the film creeps through a series of incidents that inevitably get blamed on Sally. What ensues is nonsensical at best as the minions start appearing, shredding a dress here, dismembering a stuffed animal there, apparently in some playful attempt to pin as many shenanigans on the girl as possible before implementing their ancient rituals. Pearce's usual intensity as an actor feels misguided as his role becomes impatient and unlikable, maintaining his disbelief of the growing menace despite his daughters pleas. Meanwhile, as Holmes finally begins to molt and join the film, her investigation into the events reveals a possible correlation between Sally's story and the history of the house. As the creatures come for the little girl – repeatedly, mind you – the adults continue to leave her in precarious situations, punctuating the monotony with a few bonafide 'give me a break' moments.
Eventually the dull content gives way to some unintended comic relief as the diminutive creatures return for Sally in combative waves that feel like an old episode of "Dark Shadows" infused with a mix of "Ghoulies" and "Gulliver's Travels". The question of why these monsters continue to have such difficulty corralling a little girl after having dispatched a large adult is passable, but consistently ignoring obvious solutions to a potential demonic insurgence proves tiresome. The characters (with the exception of Sally) eventually free fall into a vortex of bad decision making and irrational behavior to a degree that is only excusable in slasher films, an unappealing mix when suspense is supposed to be its main attribute. "Don't Be Afraid of the Dark" would have been much more effective as a 60 minute installment of "Masters of Horror", eliminating the extraneous material that makes it a boring, sometimes laughable yarn that doesn't have much of a purpose as a movie, let alone a remake.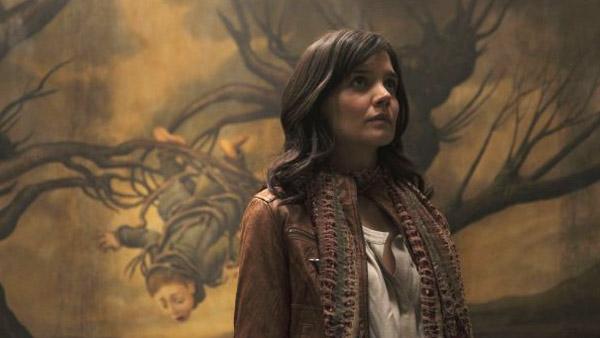 Horror films typically fail at improving on their predecessors and the variance here is marginal, but in the volatile world of remakes we would expect something much greater from Guillermo del Toro whose own dark blend of surrealist fantasy and horror should gravitate to a more ambitious project. "Don't Be Afraid of the Dark" falls on the opposite side of the spectrum than most contemporary R-rated horror films and its intention to engage the audience on an old school fundamental level is certainly commendable, but del Toro doesn't inspire nearly enough visceral tension through the lens of his protégé Troy Nixey to compensate for its drab demeanor and sparse scares.